The Voted ten times badge
Earned 1 year, 1 month ago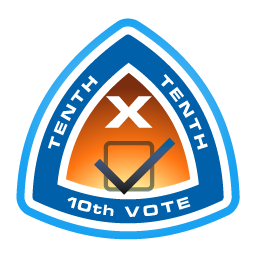 Voted ten times
Voting unlocks the potential of the Fragile Oasis community to inspire, recognize, and help each other in our collective quest to make life better on our planet. This badge recognizes your tenth vote - a milestone. Next milestone? Vote twenty-five times, and you'll earn that badge!
< Go back to D.M.J.'s profile

Late 20's Canadian. Studying for a career in astrospace. Lots of I.T. & 2D/3D design experience. Formerly much more active in environmental activities; former GreenParty EDA Chair, Former GreenPeace Canada employee. I want to free some water, win a space medal and do other good things all the time. I am also the author of the comprehensive online SpaceTravellers Guidebook and I design, build and sell 3D resources to individuals and organizations of various sorts. I firmly believe that facing an epidemic of overpopulation we have two choices; mass death or territorial expansion. I choose the latter. There's so much magic in a seed, one plant can produce enough to feed a colony! All we need is space-based greenhouses and cost effective delivery systems and BAM!
k0m2c0
Mission Control