Mikkel Vestergaard Frandsen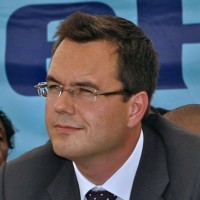 Mikkel Vestergaard Frandsen, the CEO of Vestergaard Frandsen, met Ron Garan at LAUNCH: Water, a global initiative that identifies and supports innovative work poised to contribute to a sustainable future and accelerate solutions to meet urgent challenges facing our society. NASA, USAID, the U.S. Department of State, and NIKE joined together to form LAUNCH in an effort to identify, showcase and support innovative approaches to global challenges.
Personal Data
Mikkel Vestergaard Frandsen is the CEO of Vestergaard Frandsen, a leading innovator, manufacturer and exporter of emergency response and disease-control textiles. Working in tandem with the world's leading non-governmental organizations, UN organizations, government ministries and academia, Vestergaard Frandsen has grown from a small family owned business founded in 1957 to a global social enterprise with headquarters in Switzerland and 14 offices in 11 countries.